Así es, un usuario ha descubierto que los Apple Cinema Display no funcionan con los MacBook Pro 2016. Los nuevos Mac insignia de Apple, los nuevos MacBook Pro Late 2016 con y sin Touch Bar, no funcionan con las pantallas más antiguas de Apple, por un problema de incompatibilidad entre el puerto Thunderbolt 3 y los Thunderbolt 2.
Apple Cinema Display no es compatible con los MacBook Pro 2016
Si tienes un Apple Cinema Display, me temo que no vas a poder conectarlo a tu nuevo MacBook Pro Touch Bar, o sin Touch Bar, que Apple ha lanzado este año.
Apple lanzó al mercado un adaptador de Thunderbolt 3 (USB-C) a Thunderbolt 2, pero en los propios comentarios del producto, han empezado a aparecer un gran número de compradores descontentos, principalmente por no poder conectar cualquier tipo de monitor Mini Display Port. Puerto que además también utiliza el Apple Cinema Display.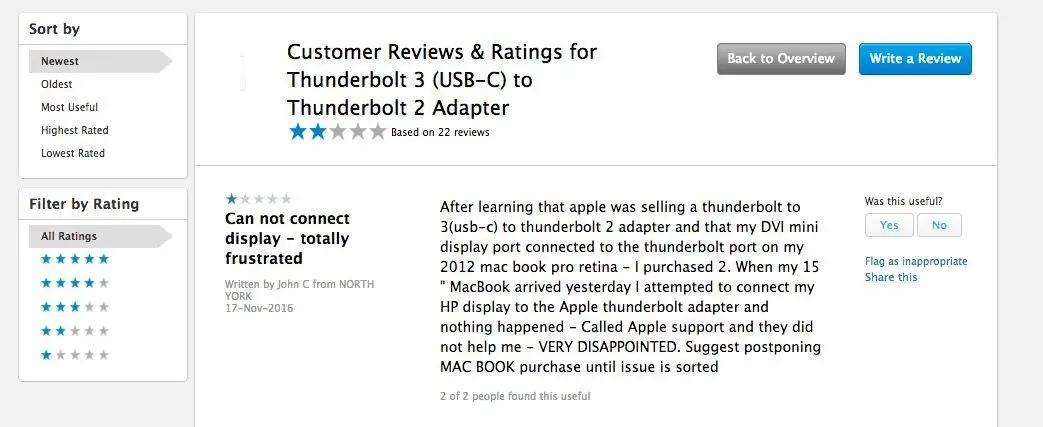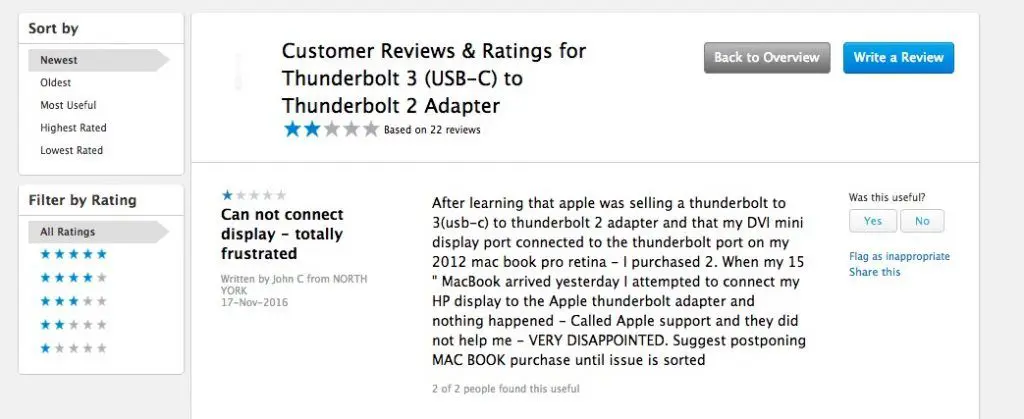 Los puertos encajan, claro está, pero al de tratar de encender el monitor este no funciona, probablemente debido a un problema de incompatibilidad entre ambos puertos Thunderbolt, y no un fallo en los adaptadores, como nos cuentan desde 9to5Mac.
En este tweet puedes ver cómo un usuario realiza el proceso y el monitor Apple Cinema Display no funciona:
The brand new MacBook Pro plus the Apple dongle doesn't work with the Apple Cinema Display?! How can this be? pic.twitter.com/4UVqHIIEsQ

— Brad Dwyer (@braddwyer) November 17, 2016
Todavía no sabemos si se trata de un problema de hardware o de software, aunque todos esperamos que sea de lo segundo, ya que con una actualización podría resolverse el problema. Tendremos que esperar para saber qué dice Apple al respecto y si le pone solución.
En MacBook Pro 2016 ha sido ampliamente criticado, por la subida de precios, por el USB-C y ahora, por esta incompatibilidad con los monitores Mini Display Port y Apple Cinema Display. No obstante, sigue siendo un gran MacBook que tendrá sus fallos, pero que seguro Apple solucionará.
¿A ti tampoco te funciona el Apple Cinema Display o un monitor MDP con el MacBook Pro 2016?