No ha pasado ni un mes desde su lanzamiento, pero Apple Pay on the web ya es la quinta plataforma de pago más utilizada en Internet. Apple Pay ha llegado a la red gracias al navegador de Safari, y parece que está triunfando. Los datos recopilados por algunas empresas especializadas lo certifican como uno de los métodos favoritos de pago de millones de usuarios.
Apple Pay on the web, el nuevo éxito de Apple
En la última Keynote de Apple nos enteramos de que una buena parte de los ingresos que genera Apple provienen de sus servicios. Apple Pay está entre esos servicios, ya que se lleva una comisión de cada transacción, y parece que su plataforma de pago por Internet está triunfando.
Apple Pay on the web, que todavía no ha llegado a España ni a Latinoamérica, ya está triunfando en los países dónde sí está disponible Apple Pay. Ayer mismo os contábamos los descuentos a los que podemos optar si tenemos este servicio disponible. Precisamente por eso parece que cada vez más usuarios han optado por utilizar este método de pago, en detrimento de otras plataformas de la competencia.
Desde SimilarTech nos llegan datos recopilados de unas 30 millones de páginas web durante este pasado mes, que muestran claramente cómo Apple Pay se sitúa en la 5ª posición de las tecnologías de pago más populares.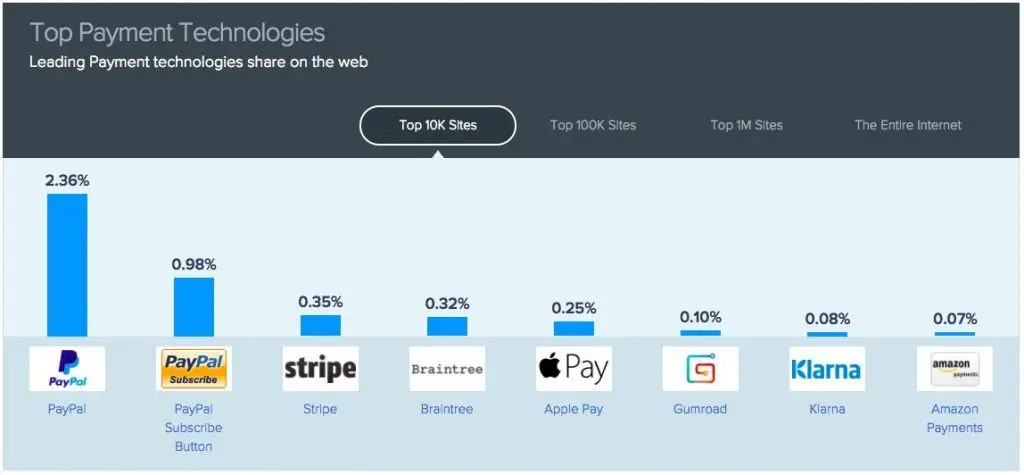 Por debajo de PayPal, Stripe o Braintree, encontramos Apple Pay como método de pago preferido en un gran número de páginas web.
Servicios como Google Wallet, Samsung Pay o similares quedan por debajo de la escala, probablemente debido a que los pagos móviles con NFC todavía no han cuajado en la mayoría de ciudades del mundo. Lectores anticuados, usuarios reacios a utilizar este tipo de pagos inalámbricos o simplemente desconocimiento de esta funcionalidad son algunos de los motivos por los cuales aún no ha despegado esta nueva forma de pago.
Sin embargo, gracias a Apple Pay on the web podemos hacer compras por Internet de forma segura, algo a lo que muchas más personas sí están acostumbradas. Apple Pay triunfa, y parece que llegará muy lejos.