Apple ha pensado en todo, incluso en qué respuesta nos ofrecería iOS cuando no funciona el botón Home táptico del iPhone 7. El gigante de Cupertino se ha puesto en el peor de todos los casos, y ha añadido una curiosa respuesta, que por otra parte es totalmente lógica, ante un mal funcionamiento del botón Inicio del iPhone 7 o iPhone 7 Plus
El botón Home del iPhone 7 no responde, ¿y ahora?
Pues como siempre, Apple y sus desarrolladores han pensado en todo. El botón táptico del iPhone 7 ya no es mecánico, por lo que un problema en iOS o en el sensor que impidan utilizarlo es mucho más grave. El usuario se ve muy limitado ante un fallo del botón Home.
¿Y qué hace iOS cuando falla el nuevo botón Home? Pues no lo sabíamos hasta ahora, pero un miembro del foro de MacRumors lo ha descubierto. El sistema operativo del iPhone 7 es capaz de dar respuesta a un problema de funcionamiento en el botón táptico, y lo más curioso es que lo hace mediante una herramienta que todos conocemos desde hace mucho tiempo.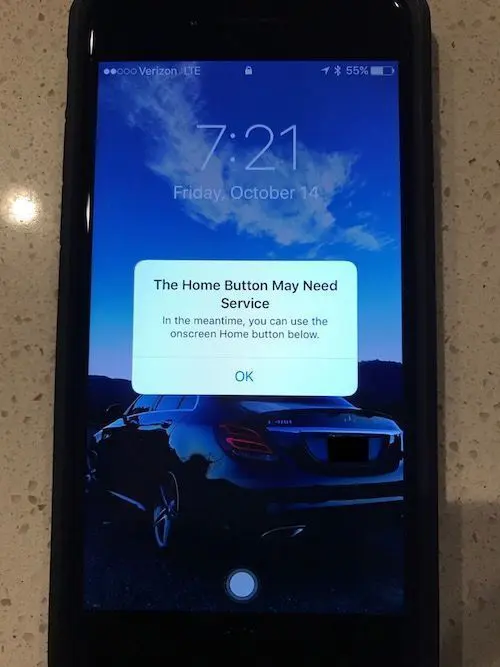 Su respuesta es la siguiente: "The Home Button May Need Service" o una traducción aproximada al español, el botón Home podría necesitar asistencia técnica. Pero fíjate bien en el mensaje inferior: "In the meantime, you can use the onscreen Home button below".
Increíble, iOS activa automáticamente una herramienta de accesibilidad que todos conocemos muy bien. Un botón Home virtual que podemos utilizar nosotros manualmente, pero que sustituiría totalmente el botón táptico en caso de un mal funcionamiento o avería. Brillante.
¿Crees que esto podría ser un indicativo de cómo será el próximo botón integrado en la pantalla del iPhone 8?