Antes de pagar los 4.99 euros de Apple Arcade es normal que quieras conocer todos los juegos que hay disponibles. Porque si no te gustan, puede que prefieras no pasar por caja (o al menos todavía). Por ello, te traemos la lista de los juegos de Apple Arcade.
Lista de juegos de Apple Arcade
Apple Arcade es una realidad ya palpable, porque el próximo 19 de septiembre estará abierto para todos. Una suscripción que podremos disfrutar en iOS, iPad OS, Apple TV (el 30 de septiembre) y macOS (en octubre).
Esperamos muchos juegos en Apple Arcade, concretamente más de 100 juegos que llegarán este otoño por parte de compañías grandes como Ubisoft y Capcom y también indie. Por lo que la emoción está servida.
No obstante, antes de disfrutar de este Netflix de juegos es importante que conozcas el listado que hay disponible; porque podría gustarte o tirarte para atrás. Y es que pagando los 4.99 euros al mes que cuesta (ojo, puedes disfrutarlo un mes gratis) podrás tener más de 100 juegos en tus dispositivos.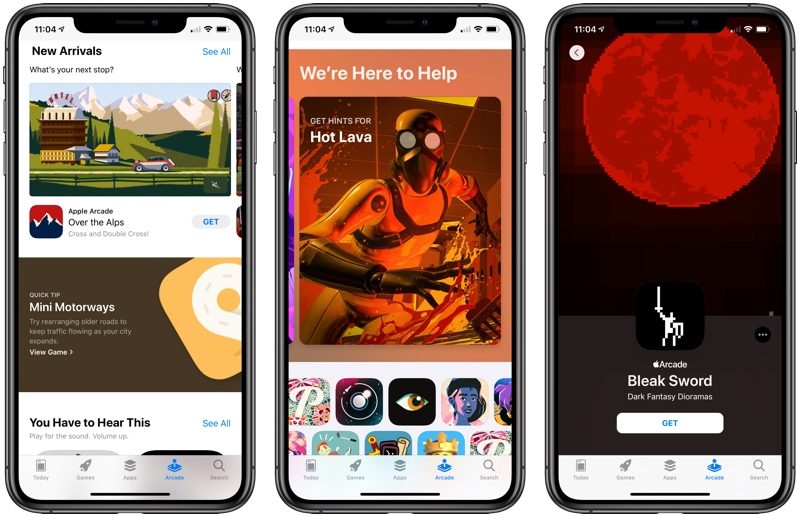 No esperes más y conoce la lista de juegos que tenemos ahora mismo disponibles en Apple Arcade. Ten en cuenta que esta lista irá creciendo con el paso del tiempo. Es solo un adelanto de todo lo que está por venir:
Agent Intercept (PikPok)
Assemble With Care (usTwo)
ATONE: Heart of the Elder Tree (Wildboy Studios)
Big Time Sports (Frosty Pop)
Bleak Sword (Devolver Digital)
Card of Darkness (Zach Gage)
Cat Quest II (The Gentlebros)
Cricket Through the Ages (Devolver Digital)
Dead End Job (Headup)
Dear Reader (Local No. 12)
Dodo Peak (Moving Pieces)
Don't Bug Me! (Frosty Pop)
Dread Nautical (Zen Studios)
The Enchanted World (Noodlecake Studios)
Exit the Gungeon (Devolver Digital)
Explottens (Werplay Priv.)
Frogger in Toy Town (Konami)
The Get Out Kids (Frosty Pop)
Grindstone (Capybara Games)
Hot Lava (Klei Entertainment)
King's League II (Kurechii)
LEGO Brawls (LEGO)
Lifeslide (Block Zero Games)
Mini Motorways (Dinosaur Polo Club)
Mutazione (Die Gute Fabrik)
Neo Cab (Surprise Attack Games)
Oceanhorn 2 (Cornfox & Bros)
Operator 41 (Shifty Eye Games)
Overland (Finji)
Over the Alps (Stave Studios)
Patterned (Borderleap)
The Pinball Wizard (Frosty Pop)
Projection: First Light (Blowfish Studios)
Punch Planet (Block Zero Games)
Rayman Mini (Ubisoft)
Red Reign (Ninja Kiwi)
Sayonara Wild Hearts (Annapurna)
Shantae and the Seven Sirens (WayForward Technologies)
Shinsekai Into the Depths (Capcom)
Skate City (Snowman)
Sneaky Sasquatch (Rac7 Games)
Spaceland (Tortuga Team)
Speed Demons (Radiangames)
Spek. (Rac7 Games)
Spelldrifter (Free Range Games)
Stellar Commanders (Blindflug Studios)
Tangle Tower (SFB Games)
Tint. (Lykke Studios)
Various Daylife (Square Enix)
Way of the Turtle (Illusion Labs)
WHAT THE GOLF? (The Label)
Where Cards Fall (Snowman)
Word Laces (Minimega)
Estos juegos estarán disponibles el próximo 19 de septiembre
En cuestión de 2 días podrás disfrutar de estos títulos en Arcade. Se podrán descargar y jugar con o sin conexión, dependiendo del juego. Además, serán sin anuncios y sin compras in-app. Pagas 5 euros al mes y te olvidas de pagar nada más.
¡¡Recuerda que puedes probarlo 1 mes gratis!!
¿Qué te parece? ¿Tienes ganas de probar todos estos títulos en Arcade? Esta lista irá creciendo, así que no te vayas perdiendo las actualizaciones del post.