OS X, antes llamado Mac OS X, ha sido el sistema operativo de los Mac desde los comienzos de la manzana mordida en la historia de la tecnología. Precisamente por eso nos ha sorprendido con este cambio de nombre. OS X ahora será MacOS, siguiendo con el formato de sus hermanos iOS, watchOS y tvOS, un cambio de "look" que estamos seguros le sentará muy bien.
Según hemos podido saber a través de una de las respuestas de Apple a qué hace por el medio ambiente, el gigante de Cupertino tiene pensando hacer un cambio de nombre al sistema operativo de los Mac, eliminando el ya clásico OS X para dar paso a MacOS, más acorde con el nuevo formato de sus dispositivos y con el resto de sistemas operativos.
Apple dice adiós a OS X y da la bienvenida a MacOS
OS X, denominado clásicamente como Mac OS X, es el sistema operativo de los Mac desde que Apple lanzó los Macintosh en el año 2002. Ahora, después de 14 años, parece que cambiará su nombre a MacOS para sorpresa de todos sus usuarios.
Aquí tienes el fragmento de texto, extraído de las respuestas que da Apple a cómo sus productos y fabricas tratan el medio ambiente, y que ha filtrado el nuevo nombre:
"...which are based on first owners, are assumed to be four years for MacOS and tvOS devices..."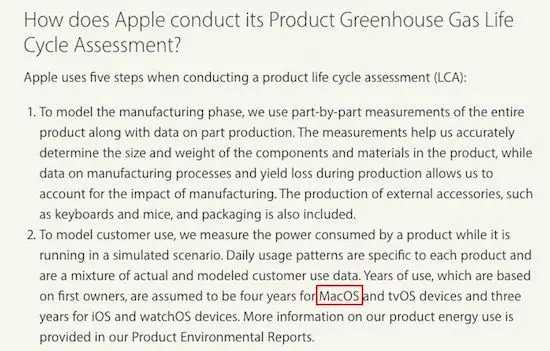 Además,la página web oficial del sistema operativo de los Mac también parece haber cambiado. Podemos acceder desde ambas web al mismo lugar:
apple.com/es/osx/
apple.com/es/macos/

El cambio de nombre a MacOS marca un antes y un después en la compañía de Apple, que deja atrás a una de las estrellas que le han permitido estar dónde está en la tecnología, para dar paso a la renovación de todos sus dispositivos y sistemas operativos.
Con esto se cerraría el ecosistema OS con iOS, watchOS, tvOS y ahora MacOS, el círculo perfecto que tanto nos gusta a los fanáticos de la marca.
Te puede interesar...
¿Podría este nombre llegar ya en OS X 10.11.5? ¿Qué opinas tú del nuevo nombre?